COVID-19 Vaccine Mandate
At their August 24, 2021 meeting, the North Orange County Community College District's Board of Trustees approved a COVID-19 vaccination requirement for all employees and students who attend in-person classes, labs, and learning centers. You must have a verified vaccination record or an approved medical or religious exemption on file. Those with an approved exemption are required to comply with on-campus, weekly testing to comply with the mandate.
*On December 14, 2021, the North Orange County Community College District's Board of Trustees amended the COVID-19 vaccine mandate requirement to include all students ages 5+. Children ages 2 and older, both students and campus visitors, must wear face masks when indoor in any District facility.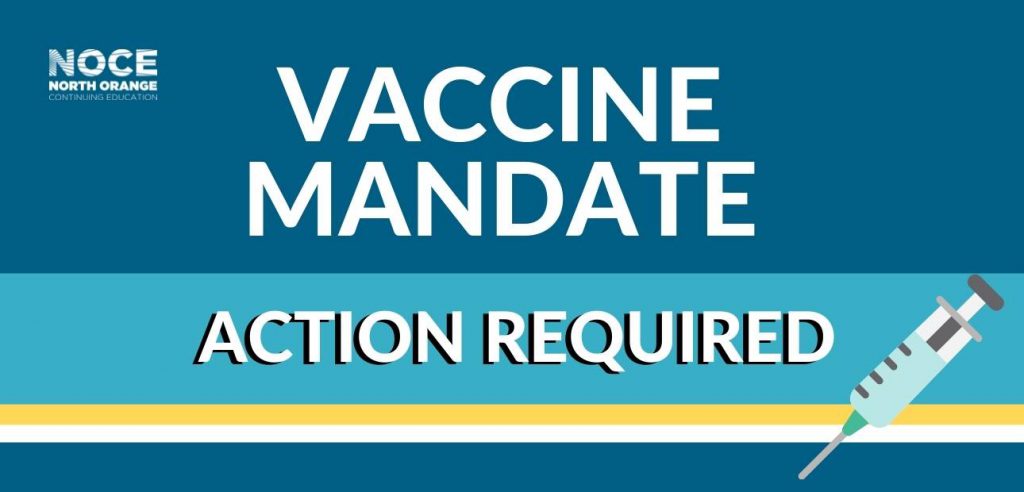 All NOCCCD students accessing District facilities for in-person classes and all District employees will need to be fully vaccinated. "Full vaccination" is defined as two weeks after receiving the full course of vaccines (i.e., the second vaccine dose for the Moderna or Pfizer vaccines or the first dose for the Johnson & Johnson vaccine).
Regular testing will be required for unvaccinated individuals until proof of vaccination is provided.
Testing will be at no cost to students and employees. Consistent with applicable law, exemptions will be granted for eligible documented medical conditions as well as religious beliefs. Following recommendations from the Orange County Public Health Department, the District will continue to require that everyone wear masks while indoors regardless of vaccination status.
---
Student & Employee Mandate Action Items:
Community Services Student Action Items:
*This includes Community Services, Kids College, and Ed2Go students.
Mandate Action Items:
Mandate Information Updates:
Mandate Fliers in Your Language: