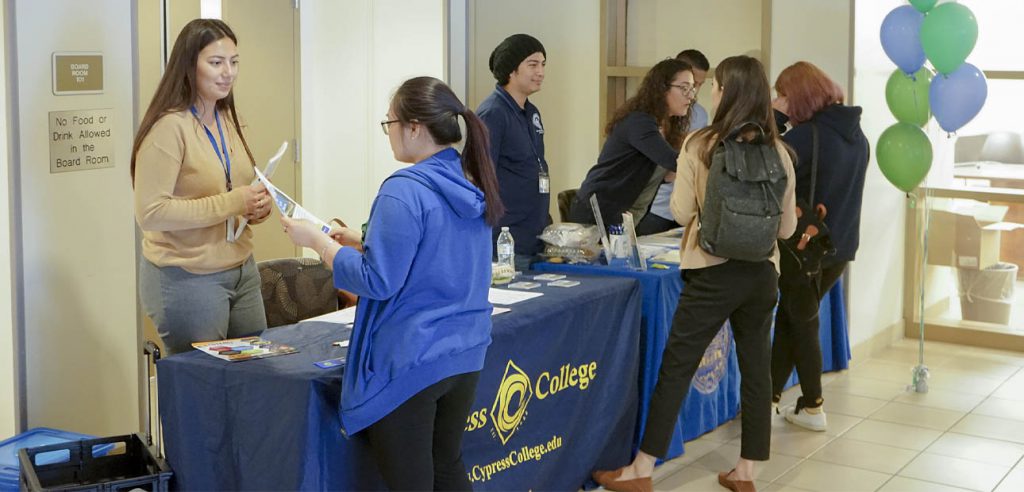 Learn more about the transition to college and career services available for NOCE students.  
NOCE is here to help! We have several resources to support you in your career exploration or to set up a plan to continue your education into college or university.
Interested in going to college?
NOCE Counseling and Student Services can assist you in transitioning to community college! Receive help with:
College applications.
Accessing financial aid.
Steps needed for registration.
Information on navigating the college.
Please call 714.808.4682 to schedule an appointment with Anacany Torres –
Counselor for Transition.
Appointments are available in-person, via Zoom, or over the phone.
Courses to Help with Transition
Transitioning to Cypress College (IHSS 300)
IHSS 300 is an online course designed to help NOCE High School Diploma, English as a Second Language Academic Success, and all other NOCE students successfully transition to college. The course includes: 
Identifying academic goals

 

Designing a Student Education Plan

 

Registration, financial aid, and learning resources



ESL Academic Success Program Classes 
| ESL for Academic Success I (IH) | ESL for Academic Success II (ADV)   |
| --- | --- |
| Reading and Writing for  Academic Success I (ESLA 1060): Reading for main ideas/details, sentence patterns, and the writing process. | Reading and Writing for Academic Success II (ESLA 1065): Reading, writing, note-taking, test-taking, critical thinking, and computer skills necessary for academic success in college, high school, GED, or CTE programs. |
| Listening and Speaking for Academic Success I (ESLA 1062): Listening to lectures, note-taking, presentation skills, and critical thinking. | Listening and Speaking for Academic Success II (ESLA 1067): Listening to academic lectures, taking notes, participating in class discussions, giving presentations, and taking exams. |
| Pre-requisite: ESL Intermediate Low | Pre-requisite: ESL Intermediate High or Academic Success I |
For more information, please visit the ESL Academic Success Program Page
EOPS Fullerton College – Career Exploration (Counseling 141F – 1 Unit)
The course includes: 
Fullerton College and EOPS program overview

 

Orientation

 

Financial Aid

 

Academic Counseling for associate degree

 

Certificates

 

University transfer

 

Campus policies

 

Campus resources

 

Priority registration



For more information, contact:
EOPS Fullerton College 
Phone: 714.992.7097 
Or Visit the Fullerton College EOPS Page
Transition to College and Career Services