Need Tutoring? The Learning Centers Can Help!     
The NOCE Learning Centers offer free tutoring for students. Visit our NOCE Centers online.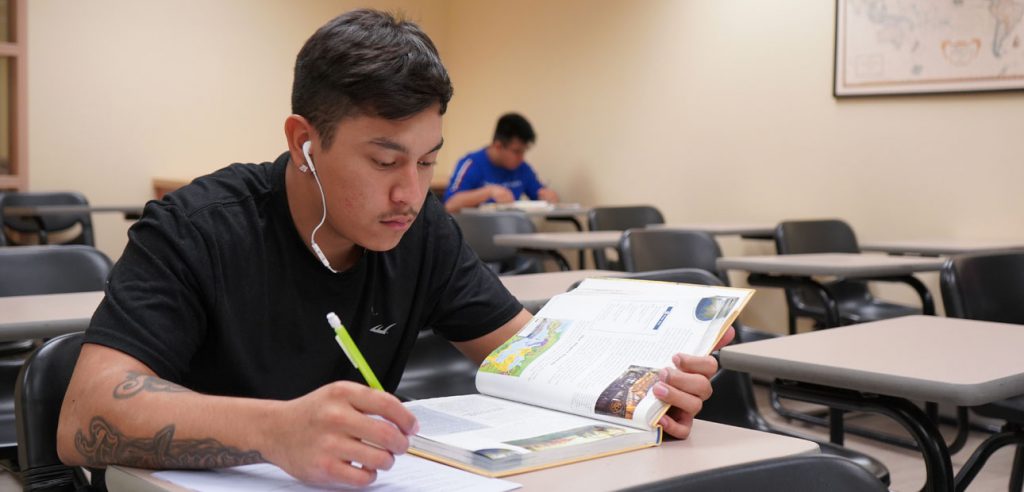 Get Free Tutoring at the NOCE Learning Centers
The Learning Centers are open labs that any student can use. Get help with coursework and develop basic skills in reading, writing, and math. The Learning Centers have flexible hours for your busy life.
Reach your academic goals at the Learning Centers. We offer:
Assistance with scholarship applications.
Basic Canvas information.
Free tutoring.
Flexible hours.
One-on-one teaching.
The Learning Centers are open-entry and allow students to work at their own pace. Register today!
---
Academic Tutoring
Tutoring is available to students at the Cypress and Anaheim Learning Centers or online. Come visit the Learning Center or schedule an online one-on-one tutoring session today!
In-Person Tutoring
No appointment is needed. Come in for tutoring at any time between the following hours:
Anaheim Learning Center
Hours: Monday – Thursday: 8:30 a.m. – 6:50 p.m.
Cypress Learning Center
Hours: Monday – Thursday: 8:30 a.m. – 2:45 p.m.
Online Tutoring
Schedule your online tutoring session below.
Hours: Monday – Thursday from 8:30 a.m. – 6:50 p.m.
Privacy and Confidentiality

For privacy and confidentiality, find a private and quiet location where you can communicate comfortably. We recommend you log in using a private computer.

Be sure to update your phone number and email in myGateway. You will receive instructions if there are technical difficulties and your counselor needs to use another option for communication (such as Zoom or a phone call).
---
Register to Use the Learning Centers
NOCE students from any program are welcome to use the services in the NOCE Learning Centers. All you need is a Student ID and COVID clearance to register!
Students must upload vaccination records or exemption forms on MyGateway and be cleared prior to registering. To apply for a Student ID visit the New Student – How to Apply page.
Then register online via myGateway at mg.nocccd.edu for the Learning Center near you to sign up for services. Need a step-by-step guide in registering? Visit the StarHelp How to Register for Classes page.
Still, need more information? Please visit the Basic Skills and Learning Centers Registration page. For registration questions, contact: 714.808.4679 or starhelp@noce.edu
NOCE Learning Center Hours
9200 Valley View Street, Technical Education 2, Room #TE2-209 (Near Parking Lot #4), Cypress, CA 90630
Hours: Monday – Thursday: 8:30 a.m. – 2:45 p.m. 
To reach the Cypress Learning Center: 
Call: 714.808.4651 or E-mail:  CypressLearningCenter@noce.edu